A Phoenix-based U.S. Airways flight attendant was found strangled and beaten in his Mexico City hotel room over the weekend, KPHO reports: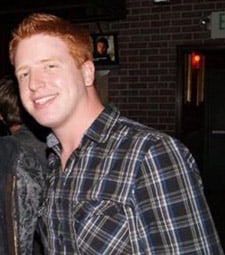 A Mexico City paper said that Aaronson, who lived in the Phoenix area, was found on the floor of his room by his co-workers just after 6 a.m. Saturday morning at a five star Hilton hotel. The paper said he was strangled with a belt around his neck and hands tied behind his back, according to NoticiasMexico.com.mx. Prosecutors said no drugs, weapons or messages were found in the room.
A man has been arrested in connection with Aaronson's murder, according to his mother Anita Aaronson:
Anita said the FBI called her at 2:30 Sunday morning to tell her they had made an arrest. She said they used hotel security cameras to catch the man. Meanwhile, a friend of the family told CBS 5 News on Sunday that the suspect stole Nick's iPhone and police were able to track the suspect using the phone's GPS system.
"I wish they had the death penalty in Mexico. He took the bright light out of my life. He was only 27 and he had so much to live for and he was so charming and was just a really nice man," Anita said about the suspect and her son.
The blog LGBTQ Nation reports that "Aaronson, who was gay, was active in several LGBT rights causes, including participating in the NOH8 Campaign, was a supporter of marriage equality, and advocated on behalf of the Human Rights Campaign."
The victim's sexuality has not been confirmed in any of the mainstream news reports I have seen yet.
Watch a KPHA report, AFTER THE JUMP…