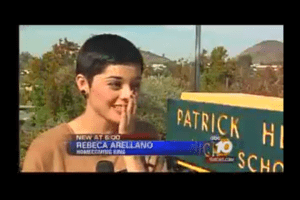 This is the opposite of a bullying story.
Patrick Henry High, in San Diego, has always "been a little bit ahead of the curve" on social issues, according to gay alum Ben Cartwright. Now, lesbian Rebecca Arellano has been named Patrick Henry's Homecoming King, according to San Diego's Channel 10News.
Perhaps Rebecca would have preferred to be a co-queen, along with girlfriend Haileigh Adams, but that's not how homecoming works. "If there was any other way to do it and have two lesbians who are a couple win, I would," she says. Haileigh Adams was nominated for homecoming queen; she'll learn whether she's won at the homecoming dance this evening.
Members of the Patrick Henry High community have so far been supportive of their lesbian prom king. During their inteview with Rebecca, according to 10News:
… cars full of people drove by shouting out things like, "You guys are an amazing couple!"
See the station's interview with Ms. Arellano here.