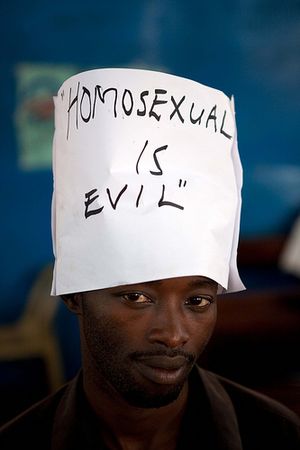 Today at Salon, journalist Naomi Abraham introduces us to "Fred," a 48-year-old gay man from Uganda. Fred lives in Kenya now. According to Abraham, Fred "became a refugee in December 2009 after he was brutally assaulted by a mob in Kampala for being gay."
On the night of his near fatal assault, [Fred] says, a large group of people from his neighborhood stood outside his bedroom quietly waiting to get the final proof they needed to confirm their suspicions [about his sexuality]. When they had heard enough, they broke his window and attacked him and his partner.
And so Fred fled to Nairobi. 
Naomi Abraham uses Fred's story to open up a brief but exquisitely written investigation of anti-LGBT sentiment in sub-Saharan Africa, explaining how bigotry has caused a vast, silent migration of women and men just like Fred. According to Abraham, they "move to urban centers in neighboring countries not necessarily because these places are any less hostile to homosexuals, but for the anonymity that comes with being a newcomer in a densely populated area."
These migrations, as well as the hateful political rhetoric that necessitates them, are "new for Africa," writes Abraham:
In the past, homosexuality was rarely brought up privately, let alone in the public sphere. The new acrimonious tone against homosexuality espoused by politicians and religious leaders has percolated across all strata of African society including the media. It has also given rise to increasing homophobic and transphobic violence, which for a growing number of gay Africans has meant that life in their own countries has become untenable …

… Some pundits believe that the shift to a more sinister form of homophobia in many African countries over the last decade has its root in conservative religious indoctrination. Some reports suggest that U.S. evangelical groups have had a hand in creating the venomous anti-gay attitudes and violence that have swept over the continent and pushed gay Africans out of their countries.

"It wasn't until the late 1990s that we saw Africans with the help of American conservative religious groups using this issue (homosexuality) as an organizing tool," said Rev. Kapya Kaoma, an Anglican priest from Zambia who has studied the U.S. evangelical influence on African societies.
Fred has sought asylum in the US. He is waiting to learn whether his application has been accepted.