In mid-October, I posted about a letter written to Anheuser-Busch by longtime gay activist Cleve Jones, Stonewall Democratic Club of Southern Nevada Chair Derek Washington, Culinary Workers Union President Geoconda Arguello-Kline,  Gay, Lesbian and Straight Education Network of Southern Nevada Co-Chair Howard Watts III, and Progressive Leadership Alliance of Nevada activist Laura Martin urging them to drop sponsorship of Ultimate Fighting Championship (UFC) over the organization's failure to address homophobic behavior by its leaders and athletes.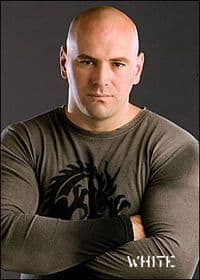 Looks like UFC President Dana White is feeling the heat.
In an interview with USA Today White said he regrets his past homophobic remarks:
"If you guys look at all the stuff that I've said over the last 10 years — some of it stupid, some of it whatever — that's the one that bothers me. That's the only one that bothers me — the fact that these losers from the Culinary Union can go out and say that I'm a homophobe and things like that — because it's the furthest thing from the truth."
He also said that the UFC should not bear responsibility for remarks by individuals:
"You're dealing with human beings. Everybody makes mistakes and everybody does things that are wrong sometimes. … We do the best we can do. How do you really think that we could possibly police 375 fighters and try to control everything they say?"
He also says he wishes a fighter would come out:
"I'll tell you right now, if there was a gay fighter in UFC, I wish he would come out. I could care less if there's a gay fighter in the UFC. There probably is and there's probably more than one."