Linda Wall, a conservative independent running for Virginia's House of Delegates who has lobbied Virginia's General Assembly on behalf of the Family Foundation, a group that opposes same-sex marriage, gay adoption, and abortion, says she's an "ex-gay" and admits to having had sexual relations with an underage student that cost her a job forty years ago, the AP reports: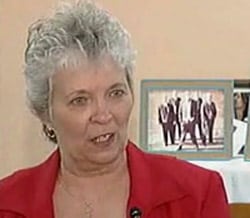 In an Associated Press interview on Wednesday, Linda Wall confirmed her sworn 2006 testimony in a lawsuit in which she admitted to "sexual relations with a minor" in the early 1970s when she taught physical education in Prince George County. The 61-year-old Wall said the affair was a long-ago, youthful mistake, not who she is now.
"I've never tried to hide that I was in homosexuality. If anybody Googles me, they would find that out there," Wall said.
"Forty years ago I was a different person. I was a heavy pot smoker with … impaired judgment and made some bad choices," she said. "You do that out of college sometimes. Some people do, some people don't."
Wall says she went through Christian "ex-gay" therapy that converted her into a heterosexual.
Wall could technically still be prosecuted under Virginia laws, but it would require the girl to come forward.
The disclosure came two weeks before the election in which Wall, Democrat Connie Brennan and Republican Matt Fariss are vying for the vacant seat of Del. Watkins Abbitt, an independent from Appomattox who is retiring after 26 years in the House.
Watch a news report and interview with Wall about how she was cured of the sin of homosexuality, AFTER THE JUMP…