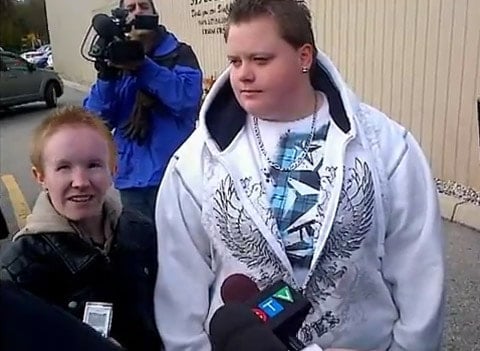 Appproximately 20 people showed up to protest an incident that took place three weeks ago at a Tim Hortons restaurant in Blenheim, Ontario in which a lesbian couple was ejected from the restaurant for what they say was an innocent display of affection.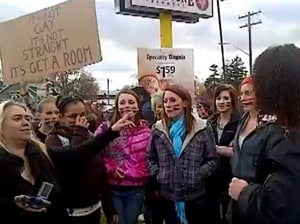 The couple was reportedly booted from the restaurant after complaints from a local pastor who was dining there. The pastor formed a prayer circle in the restaurant's parking lot as the couple left.
There has been some controversy over the protest. Sarah Fraleigh, the former president of Chatham-Kent Pride, said she would not attend the sit-in Thursday afternoon, and CK Pride has refused to support the protest. The PRride group has been accused of cowing to rampant homophobia in the area and not supporting the protest over concern that ties it has to local businesses would be broken.
Watch local videographer DanAge's report on the protest, AFTER THE JUMP…
And watch a CBC report, HERE.