Zimbabwe Prime Minister Morgan Tsvangirai has split with President Robert Mugabe, reversed his position on gay rights and now says he wants them protected in a new constitution, the BBC reports: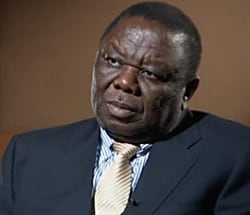 Mr Tsvangirai told BBC's Newsnight programme that there was a "very strong cultural feeling" against homosexuality in Zimbabwe, but he would defend gay rights if he became president.
President Robert Mugabe (L) and his Prime Minister Morgan Tsvangirai (R) have a fractious relationship
"It's a very controversial subject in my part of the world. My attitude is that I hope the constitution will come out with freedom of sexual orientation, for as long as it does not interfere with anybody," he told Newsnight's Gavin Esler.
"To me, it's a human right," he said.
In July 2010, Mugabe vowed to not include rights for gays in a new draft of the country's constitution. He also took the time to once again compare gays to pigs and dogs.