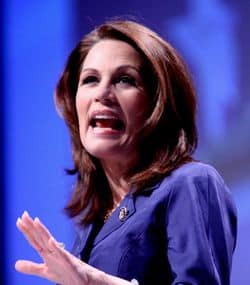 CBS is about as good at managing their email as they are at hosting debates. Last night's Republican debate — in which the moderators from CBS and the National Journal forced wild thematic changes on the candidates every three or four minutes, making it all but impossible for the already-befoggled presidential hopefuls to elucidate any complex thoughts on any issues at all — is being panned from every angle today, and most forcefully by the shrinking Michele Bachmann campaign. Apparently, one of Bachmann's staffers was mistakenly copied on an internal CBS memo, circulated before the debate, in which the station's political director, John Dickerson, directed his underlings to keep Rep. Bachmann's airtime to a minimum. Which they did. 
[The email said] Bachmann is "nearly off the charts," "not going to be getting many questions," and probably wouldn't be even be worth inviting to a post-debate webcast.
Other gripes about the debate include CBS's decision to air the last 30 minutes of the event exclusively online — a move that fatally bottle-necked the bandwidth, rendering large chunks of the discussion incomprehensible — and the short shrift given candidates Jon Huntsman and Ron Paul.
Really, though — Bachmann's the tragedy here, because when she did get a chance to speak, she was mind-blowing. For example: Until last night, did you have any idea that the United States is more Communist than China?