Published by
AFP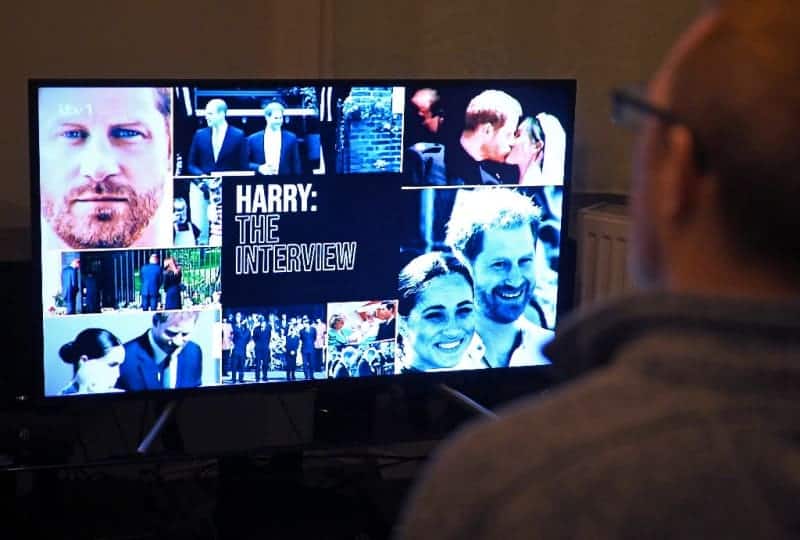 Prince Harry has done four TV interviews to promote his unflinching memoir 'Spare', the first of which aired on Britain's ITV on Sunday
London (AFP) – Prince Harry's publicity blitz for his new memoir led his public ratings to plummet to a record low in Britain on Monday, before the unflinching autobiography about his troubled royal life hits bookshops.
Some stores open just after midnight Tuesday for the release of "Spare" — the biggest royal book since Harry's mother Princess Diana collaborated with Andrew Morton for "Diana: Her True Story" in 1992.
It has been preceded by a six-part Netflix documentary and four television interviews in the UK and the United States, where he now lives with wife Meghan.
But in the run-up to the first, on British channel ITV on Sunday evening and watched by a relatively modest 4.1 million people, YouGov polling indicated his popularity had sunk to a new low.
Nearly two-thirds (64 percent) of Britons have a negative view of him, up from 59 percent in December. Just over a quarter (26 percent) had a positive opinion. Meghan polled similarly badly.
Yet he found some support on the streets of London.
Adam Whitty, a 34-year-old management consultant, said not enough people realised the royals were fallible. "I feel like everyone doesn't give them enough compassion," he told AFP.
Maraid Fanning, who is 58 and self-employed, praised Harry for speaking out, particularly against the negative media coverage.
"I think history will show that he was on the right side," she added.
But others criticised Harry for sowing division.
"I don't like seeing it," said retired lawyer Antoinette McClaine, 65, contrasting Harry's candour as the opposite of his grandmother Queen Elizabeth II's 70 years of "dignity and honour".
"This feels like exactly the opposite and it's terribly sad," she added.
'Olive branch'
The ITV interview baffled viewers by insisting Harry and his mixed-race wife never accused the royal family of racism over comments made about the skin tone of their unborn son.
"No I didn't. The British press said that," Harry said, adding that Meghan had also not called the royals "racist".
The initial allegation, made in a bombshell interview given by the couple in March 2021 to US chat show host Oprah Winfrey, caused a transatlantic uproar.
Harry's elder brother and the heir to their father King Charles III's throne, Prince William, told reporters at the time that "we are very much not a racist family", but Harry himself stayed silent then.
The late queen said then that "recollections may vary" about what was said — a line that was repeated by some UK commentators in mocking response to Harry's interviews.
Several described his denial to ITV as an "olive branch", but one that was contradicted by the Oprah interview and coming too late, given the incendiary nature of his other allegations in the book.
'Probably bigoted'
Potentially the biggest claim that could hurt his hope for reconciliation with his family was in another interview with US network CBS about his stepmother, Camilla.
The Queen Consort — a hate figure for some for being the other woman in Charles's marriage to Diana — waged a cunning but "dangerous" campaign to win over the press herself, Harry said, calling her "the villain".
The book includes a claim that William physically attacked Harry as they argued about Meghan.
It also gives an account of how he lost his virginity, an admission of teenage drug use and a claim he killed 25 people while serving in Afghanistan with the British military, which earned him a rebuke from hardline Islamists the Taliban.
To ITV, Harry also defended a long-serving royal courtier, Susan Hussey, after she grilled a black British guest at a palace reception about where the woman "really" came from.
But to CBS, the prince also admitted to being "probably bigoted" before he met Meghan, and accused William and his wife Kate of never giving her a chance.
The Sun newspaper said Harry had "astonished" viewers with his racism "U-turn", and described the 38-year-old prince as a "troubled, lonely man".
"Nothing is Harry's fault and almost everything can be blamed on the press," the Daily Telegraph wrote.
The contents of Harry's ghost-written book have already been widely leaked after it mistakenly went on sale early in Spain.
He insisted to ITV that he still wanted a rapprochement with his father and brother, but said the onus was on them, refusing to confirm whether he will attend Charles's coronation in May.
He also urged his family to respond. "Silence only allows the abuser to abuse, right? So I don't know how staying silent is ever gonna make things better," he added.