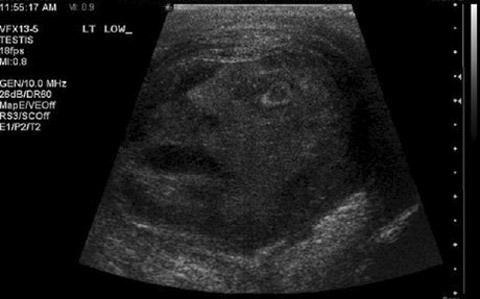 Usually it's Jesus in a Walmart receipt or something like that, but pareidolia really has no limits now.
Urologists thought they saw a face in an ultrasound of a man's testicles that were being examined for a tumor.
They were so excited they sent it to Urology, the International Society of Urology's official journal, and it was published in the journal's September issue, the UK's Telegraph reports:
Writing in the journal, they said: "The residents and staff alike were amazed to see the outline of a man's face staring up out of the image, his mouth agape as if the face seen on the ultrasound scan itself was also experiencing severe epididymo-orchitis," wrote the authors, referring to an inflammatory condition.
"A brief debate ensued on whether the image could have been a sign from a deity (perhaps 'Min,' the Egyptian god of male virility); however, the consensus deemed it a mere coincidental occurrence rather than a divine proclamation."
PS – the mass was benign.