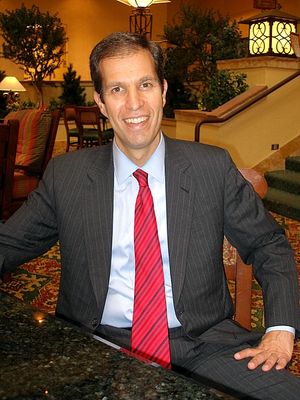 Ken Mehlman is that closeted Republican fellow who ran George W.'s reelection campaign in 2004. He uncloseted himself in 2010, and since then he's been a barnstormer for LGBT rights. Now he's made the Out 100 — that august list of 100 "LGBT movers and shakers who made big impressions on the cultural and social fabrics of this year."
Brian Moylan, of Gawker, is having none of it. (Neither's Joe, of Joe My God, but Moylan approaches his disgust more pro-actively.) Writes Moylan:
… shouldn't [Mehlman] have been fighting for gay marriage, oh, I don't know, when he was helping to run the Republican party? Shouldn't he have cared how these votes were going to go before they happened rather than fighting to reverse them now that they have?

Thanks to Ken Mehlman, we need to fight even harder to achieve marriage equality in all 50 states. Good thing he's going to help, because it's going to take a lot of extra work to reach that goal, in part due to his handiwork. At the time I was working at the Washington Blade, the country's oldest and largest gay newspaper, and we tried like hell to find proof of the gay rumors so we could out the bastard while he was still in power. We never got the chance, and he came out himself in 2010.

… we have to do something to punish Mr. Mehlman for all he's done while still giving him credit for his accomplishments. I have a suggestion. As of this day, every gay man in the world (or at least America) should pledge that they will never sleep with Ken Mehlman. No kissing, no touching, no handies in the bathroom at a Log Cabin convention. Nothing! Yes, he is allowed to be gay and to fight for gay civil rights, but for his past sins, he should be rendered completely celibate. You can date him, you can go to parties with him, and you can invite him to your fundraisers, but don't you so much as dare do anything below the belt … This is the price all traitors should pay — a long, lonely life of frustrated misery.