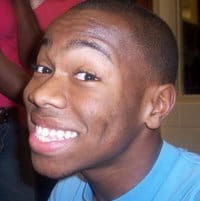 J.T. Chestnut says he didn't want to join the army. But his father exerted the peculiar pressure disapproving fathers can sometimes exert on their gay sons, and in 2007 he sent 18-year-old J.T. off to enlist. The army would toughen him up, dad hoped. "Straighten" him up. It didn't work. According to J.T.:
 … [two] months before basic training graduation, I was led on by a guy and was framed for homosexual conduct.

During the investigation, I was constantly bullied for my "lifestyle" of being gay and for being who I was. This time for me was very depressing, horrible, and I was desperate to get out. In late November of 2007, I went AWOL and moved to California.
Once in West Hollywood, J.T. recreated himself as a happy gay man and activist. He discovered what he calls his family among open-minded Los Angelinos. And then:
… on Oct 31st 2011, I was arrested in West Hollywood on the way to a friend's house for no reason at all. The sheriffs found about my warrant and took me in. I was just released from LA County Jail but have to report to Fort Sill, Oklahoma to surrender myself in. I am frightened, scared, and worried that I will be physically hurt for my being openly gay. This is where I need your help.

Please post my story on your FB, blogs, twitter, and etc in hopes of more people hearing me out and supporting me. I do not want to serve time and I have not been this afraid ever in my life. I want to continue to live the life I am living here in LA. Please help me.
J.T. appends his story with an apology to his West Hollywood friends, in whom he apparently never confided about his army past:
PS. I'm so sorry for not sharing this dark secret. It causes too much but knowing u guys made life worth living. I love you. And while I am away..please don't forget about me.
Kevin Miniter, of the Fred Karger campaign, has launched this petition at Change.org in the hopes of securing JT's pardon.
[Pic: Courtesy of WeHo Confidential]