Christopher Buchanan and his boyfriend Derrell Hughes say they were kicked off a Chicago Transit Authority bus on October 22 for kissing, the Windy City Times reports: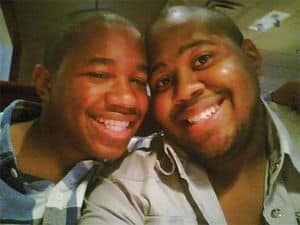 "I was holding his hand and kissing and whatnot," Buchanan told Windy City Times.
As the bus approached downtown, he said, a middle-aged White woman approached the bus driver to complain about the two. The driver allegedly got up and told Buchanan and Hughes that someone had complained about them and that they needed to get off his bus.
"He was really in my face," said Buchanan. "He said 'you bitches need to get off the bus…I can't stand fags.'"
When the couple refused to leave, Buchanan said, the driver called police. Buchanan said that while police said they had not done anything illegal, they got off the bus after a two-hour ordeal during which a CTA supervisor was called. Buchanan said he felt the two were targeted because they were two black men kissing in public. He noted that a straight couple was also kissing on the bus at the time of the incident.
The couple is being represented by Jacob Meister of The Civil Rights Agenda, who says he will seek some other kind of resolution before pursuing legal action.
Gay couple allegedly booted from CTA for kiss [windy city times]