Edward DuMont, who was nominated 18 months ago by President Obama to serve as a judge on the U.S. Court of Appeals for the Federal Circuit and has yet to receive a single hearing, has asked for his nomination to be withdrawn, MetroWeekly reports: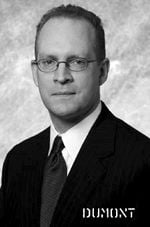 Despite DuMont's qualifications, he never received a hearing on his nomination from the Senate Judiciary Committee. Democratic committee spokespeople have said that Republicans had held up the nomination, although Republican committee spokespeople pointed out that the chairman of the committee, Sen. Patrick Leahy (D-Vt.) could call for a hearing on the nomination at any time.
In his letter to Obama, DuMont wrote, "Under these circumstances, drawing the process out further does not seem either sensible for me or fair to the Federal Circuit, which has important work to do and deserves to be able to address it with a full complement of active judges."
The nomination has not been officially withdrawn.