On October 21, I mentioned that gay rights pioneer Frank Kameny would lie in state at the Carnegie Library in Washington D.C. at a memorial today.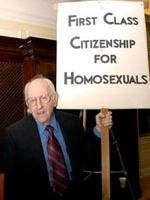 "All are welcome to visit and say goodbye to our fellow citizen, neighbor, friend, advocate and civil rights champion, Frank Kameny. This farewell viewing, to be held over several hours on November 3 to allow many friends to visit at their convenience, was made possible through our Mayor, the Honorable Vincent Gray, and with the endorsement of Members of the D.C. Council, as well as many friends and allies of the late Dr. Kameny…This will not be a formal program or a funeral service conducted during this viewing period. However, informal remarks by civic leaders and choral presentations may be made during the 5 hours set aside for viewing."
The viewing will run from 3 to 8.