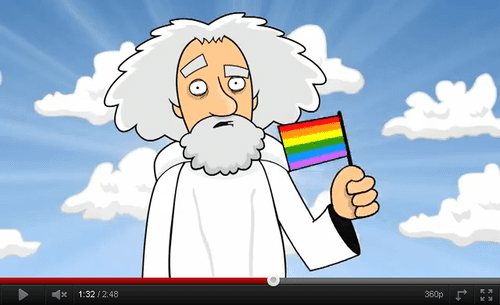 The National Organization for Marriage is most wroth with publishers Simon & Schuster for their "It Getteth Better Vid." In the vid, God The Father Almighty reassures LGBT teens not only that it gets better, but that the first couple really was Adam and Steve. He also reveals that He Himself has a crush on Ryan Reynolds.
On their anonymous blog, NOM wrote:
We guess Simon & Schuster thinks this is smart marketing — mocking Christian pastors who preach the bible's teaching on sexuality (warning: many folks will find this deeply offensive).
Simon & Schuster is probably right about the marketing thing. As New Civil Rights Movement points out, "It Getteth Better" has about 132,000 Google matches. (By my own count, it's 129,000. In any case, there's a lot of linking going on.)
But what's this business about "warning: many folks will find this deeply offensive"? Is NOM really acknowledging that its audience is too lily-livered to handle a little light religious satire? Satire created, moreover, to make a bunch of depressed teenagers less likely to commit suicide? You'd think they'd be a little tougher, seeing as they've got the all-powerful creator of the universe on their side.
If you haven't seen It Getteth Better, check it out AFTER THE JUMP …