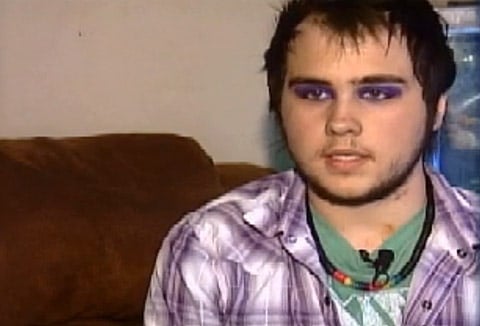 Lexington High School Principal Steve Lindsey suspended gay student Kasey Landrum for wearing make-up, and now Landrum and his mother are speaking out, WBBJ reports:
"I'm very upset about it because he can't be who he wants to be," said Shelly Maness, Kasey Landrum's mother. "When I went to register him, about the make-up, he (Lindsey) reminded us Kasey was not to be wearing any," she adds.
The suspension form obtained by Maness cited her son was suspended on the basis he violated the school's dress code which states: "When a student is attired in a manner, which is likely to cause disruption or interference with normal operation of the school, the administration will take the appropriate action. In matters of opinion, the judgment of the teachers and administrators will prevail."
Landrum says the make-up has not been a distraction to anyone, and students and teachers have been supportive, but the situation at school is having a larger impact on him.
"I'm proud of myself for being as comfortable as I am, but sometimes I wish I was straight," he said. He said the emotional impact of not being able to express himself has led to depression which has caused him to miss days from school.
Watch, AFTER THE JUMP…