A New Jersey judge today ruled that a lawsuit brought by gay and lesbian couples seeking same-sex marriage in the state can proceed, the Star-Ledger reports: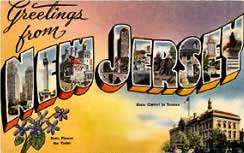 If the law creating civil unions does not give same-sex couples the same protections as married heterosexual couples, it has to be examined as to whether it is constitutional, Mercer County Assignment Judge Linda Feinberg said during a hearing in Trenton this afternoon.
But in dismissing three counts of the complaint, Feinberg also said there is no fundamental right to same-sex marriage under the state Constitution. One count of the suit — a claim that the civil union law does not give them equal protection — remains.
She noted same-sex couples complain civil unions, created in New Jersey in 2006, still don't give them the same benefits as marriage in situations such as health benefits sharing and health care decisions.
"I don't think that the court can remain silent and take no action if…the result is that those benefits are not equal in the protections," Feinberg said.
Garden State Equality wrote, on its Facebook page, shortly after the ruling: "We just won round one in the New Jersey marriage equality case, Garden State Equality v. Dow, as the court ruled against the state's motion to dismiss the case. The judge ruled right from the bench rather than wait to write a written opinion."
Said Hayley Gorenberg, Lambda Legal Deputy Legal Director: "We are delighted that the New Jersey Superior Court will allow this case to continue and permit us to demonstrate how the legislature's crafting of a status other than marriage for same-sex couples has failed to provide them the equality promised by the New Jersey Constitution. Civil union relegates New Jersey's same-sex couples to a second-class status that keeps them and their families vulnerable. By moving to dismiss, the government was trying to prevent us from showing exactly how the current classification system based on sexual orientation harms families. New Jersey's exclusion interferes during medical crises, denies them health insurance, and leads to discrimination against them even in funeral homes. These families need marriage equality and should not have to live with a law that treats them as inferior."