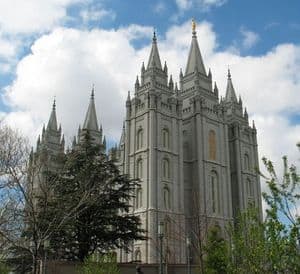 As you read this, "hundreds of gay Mormons, their families and friends" are gathered in Salt Lake City, UT, to talk about sexuality at a conference called "Circling The Wagons." According to The Salt Lake Tribune:
The purpose of the conference, sponsored by researcher John Dehlin, along with Mormon Stories and Open Stories Foundation, is "to create a space where LGBTQ or SSA individuals and their families and allies can gather to acknowledge, explore and honor shared experiences."
What kinds of folks are these LGBT Mormons? A poll conducted by Utah State University found:
… nearly two-thirds (65 percent) of the 1,600 respondents had tried to change their orientation, and 86 percent classified church counseling that sought to end their same-sex attraction as not helpful, somewhat harmful or severely harmful.

About a third (29 percent) of the respondents said they remained active in the LDS faith, a little more than a third were inactive (36 percent) and 26 percent asked to have their names removed from the church's membership rolls.

Still, nearly 70 percent said they believed in God, 52 percent believed in Jesus Christ, and 36 percent believed that LDS Church founder Joseph Smith was "a prophet of God."
Some of the attendees include a former Methodist minister who became an LGBT supporter after some of his congregants came out, as well as:
… author and playwright, Carol Lynn Pearson, retired Brigham Young University microbiology professor Bill Bradshaw, Utah State Democratic Party Chair Jim Dabakis, filmmaker Kendall Wilcox, psychologist Lee Beckstead, as well as Dehlin, who has helped conduct online research within the LDS gay community.
Circling The Wagons is organized by Ms. Pearson's organization "Mormon Stories." Needless to say, it's not affiliated with the LDS Church.