Today will be the first hearing of a lawsuit filed in June by seven same-sex couples and their children who say they are harmed by the unequal civil union law in New Jersey. The couples seek marriage equality, the Star-Ledger reports: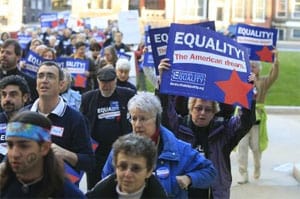 Superior Court Assignment Judge Linda Feinberg will hear arguments from Garden State Equality, a civil rights organization for same-sex couples, and the state Attorney General's Office, which is defending New Jersey's civil union law. In a 2006 decision that stopped short of recognizing gay marriage, the state Supreme Court said legislators have to provide marriage-like rights to same-sex partners. It left the details of those rights up to the lawmakers. Later that year, legislators created civil unions, giving the same benefits of marriage but not using the term.
The New Jersey Attorney General's office is asking the judge to dismiss the lawsuit: "The state government denies that and says the suit should be dismissed because the legal issue is already settled."