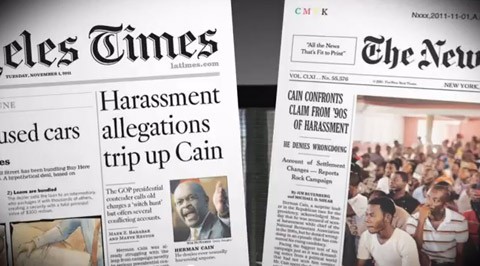 Herman Cain's campaign is not on message regarding the sexual harassment scandal that has enveloped it, the NYT reports: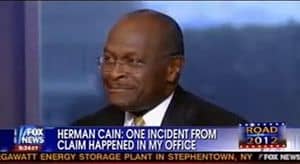 Just hours earlier, Mr. Cain's chief of staff took a more conciliatory tone, backing away from accusations that Rick Perry's campaign had been responsible for leaking the harassment allegations to the news media.
But in a 30-minute interview on Sean Hannity's radio program, Mr. Cain returned to the confrontational tone that he had adopted earlier in the week.
He accused Politico, which broke the story, of not having documentation for it. He accused the lawyer for one of his accusers of seeking fame. And he repeated his charge that Mr. Perry's supporters were trying to undermine his campaign.
A new poll shows that the scandal doesn't seem to be hurting Cain's numbers:
The poll, taken on Nov. 2, while the news was not only still fresh in our minds but also still developing, gives Cain 26 percent of the vote to Romney's 23 percent. And these numbers support what yesterday's Quinnipiac poll revealed about the third-place slot: it might not be Rick Perry's anymore.
Meanwhile, Cain supporters have dropped an ad charging that the whole scandal is about race, comparing Cain to Supreme Court Justice Clarence Thomas, and calling the allegations a "high-tech lynching".
Watch, AFTER THE JUMP…