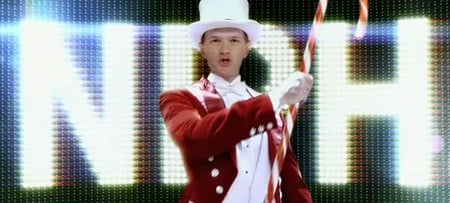 NPH wishes you a Merry Christmas via Harold & Kumar

NATHANIEL ROGERS
…would live in the movie theater but for the poor internet reception. He blogs daily at the Film Experience. Follow him on Twitter @nathanielr.
 
NOW PLAYING
We're all in agreement that the best thing that ever happened to Neil Patrick Harris (career-wise) was the Harold and Kumar films, right? Just as the former child star was coming out of the closet and reasserting his talents on stage and screen, he was also playing a hilariously wrong version of himself: "Neil Patrick Harris" as an oversexed overdrugged womanizer. Having a sense of humor about oneself is endearing and it suddenly didn't matter if the actor was gay or straight, whether he was once a child star or was suddenly a comeback kid. All that mattered was that he always gives the audience a good time. The third installment HAROLD AND KUMAR'S VERY 3D CHRISTMAS, with the fratboy crude tagline/punchline  "Christmas Comes Prematurely" opens tomorrow.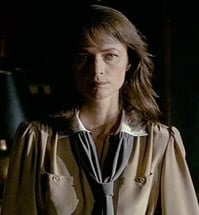 ALSO OPENING:  Ben Stiller and Eddie Murphy team up for the comedy TOWER HEIST directed by Brett Rattner which is not bad but Rattner's recent announcement that he wants to direct the film version of Broadway's WICKED is kind of my personal nightmare as a rabid fan of the movie musical genre;  In the documentary CHARLOTTE RAMPLING: THE LOOK the 60s/70s icon and current queen of icy supporting bitches (wow but she's a meanie in Lars von Trier's  Melancholia) reveals a "self portrait through others"; Channing Tatum stars in the cop drama THE SON OF NO ONE.
BONUS SCENES

Speaking of Tatum, his stripper movie Magic Mike is well into filming now. The actress Olivia Munn admits she loves to watch her co-stars in action (can you blame her) and hates being off the set. 
"Like, right now, I'm mad. I'm furious that I'm not there watching Matt Bomer shake it, because he can shake it, probably better than most people in the world."

Why is Daniel Craig pulling faces?
Craig, Best Actor Oscar Buzz, and 'Straight Guys for Weekend' AFTER THE JUMP…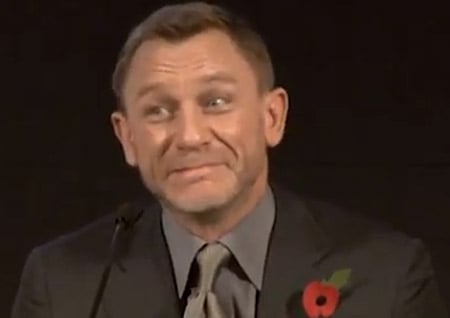 That shot of Daniel Craig is from today's "Bond 23" press conference. After avoiding a comparison question about his character in The Girl With the Dragon Tattoo vs. James Bond, he made that face at the reporter. You can watch the whole thing on YouTube. I live-blogged it for those who didn't have 28 minutes to spare….because I am insane.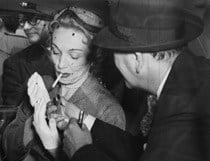 Do you love revisiting Old Hollywood gossip? Here's a great anecdote that reminds us that gay men have been dispensing romantic advice to their girlfriends since time began. It's a letter from Noel Coward telling Marlene Dietrich to dump Yul Brynner's sorry ass. The sentiment is expressed with far more wit and eloquence than that because it is Noel Coward doing the expressing. 
Supposedly Michelle Williams is keeping her pixie cut in memory of Heath Ledger. "I cut it for the one straight man who has ever liked short hair"

Have you talked any of your straight friends into seeing the gay romance Weekend? They'll find it just as compelling. It's nice to hear the raves coming from straight movie-buffs, too.
Weekend treats homosexuality much the way actual gay people do, which is to acknowledge it as as something that sets them apart from the mainstream and informs their character and then to move on with the messy business of their own lives. I doubt there will be a single audience member who doesn't relate strongly to this material regardless of where they fall on the Kinsey Scale.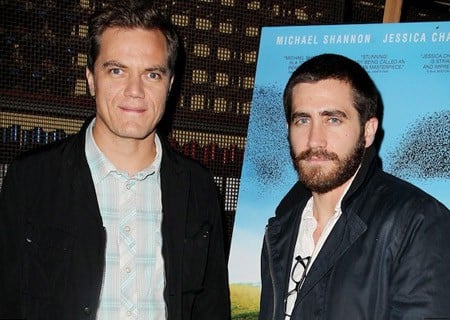 Finally, you know that Oscar season is on its way when celebrities start randomly hosting parties for other celebrities to congratulate them on their fine work in Movie A or Movie B. Two nights ago Courtney Love nearly coughed on me (she covered her mouth – good manners!) at the Rampart premiere after party for Woody Harrelson as she whisked by. That's as glitzy as it gets when you are a nobody there to report on the somebodys! Last night, I ordered a drink while standing near Jake Gyllenhaal. #GlamorousMomentsAtMovieParties!
Jake was at the second event to congratulate Take Shelter's Michael Shanno who I had spoken with the night before at the Rampart party; same faces, different nights, the parties blurring together. Rampart is a naturalistic cop drama and Take Shelter, an apocalyptic psychological question mark but both films worry tremendously well over their leading man's mental health. Is there room for both Harrelson and Shannon in Oscar's Best Actor race? There's no way that superstars Brad Pitt (Moneyball) and George Clooney (The Descendants) are budging from their presumptive thrones so that leaves three vacant spots for all the other leading men to fight over. We'll know in 81 days who wins the coveted nominations for the 84th annual Oscars. Last night, at least, it appeared likely that "Michael Shannon" was already mentally scribbled on Jake's own ballot.