At the launch of a local project intended to increase access to water, Huarmey, Peru Mayor Jose Benitez expressed concern that drinking tap water would turn the town gay.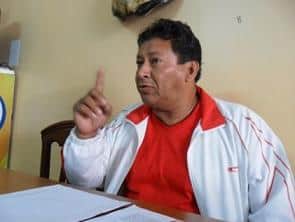 José Benítez, Huarmey mayor, says:
"Unfortunately Strontium reduces male hormones and suddenly we'll be as Tabalosos, as other towns, where the percentages are increasing of homosexuality."
Pink News adds:
The water comes from Tabalosos, a town which a Lima-based television station famously said in 2000 was inhabited by 14,000 exclusively-gay men.
The Tabalosina mayor, Jorge Luis Vasquez, said: "Young people have low self-esteem (because of) this stigma".
Dr. Robert Castro Rodriguez, the dean of the College of Pharmaceutical Chemistry of Lima, told a radio station that strontium can cause bone cancer, anaemia and cardiovascular problems. A link with homosexuality has yet to be identified.
You may recall that in April 2010 Bolivian President Evo Morales made headlines when he made similar claims about chicken.