Out gay Polish MP Robert Biedron has urged the Ministry of Justice to intervene after a court ruling allowed a far-right nationalist group to register a graphic depicting gay sex with a bar through it as one of its official symbols, AFP reports: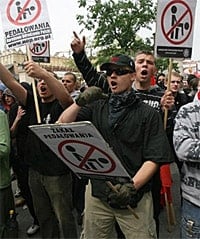 In a little-noticed decision at the end of October, a court allowed the small National Rebirth of Poland (NOP) party to register two symbols. One was the Celtic cross, used by far-right movements internationally, while the other was a stylized illustration of gay sex with a bar through it.
The NOP trumpeted the court ruling on its website earlier this week, saying it capped a two-year legal battle. Grzegorz Schetyna, a senior player in Poland's ruling centrist Civic Platform, accused the judge who made the ruling of failing in his duties.
"Such symbols are unacceptable," he told the station Radio Zet
Biedron is the first openly gay member to be elected to parliament. He was recently seated along with Anna Grodzka, Poland's first transgender MP.