Prop 8 supporter Doug Manchester, whose Manchester Grand Hyatt has been high at the top of boycott lists for years now, has purchased the city's San Diego Union Tribune for more than $110 million, Voice of San Diego reports: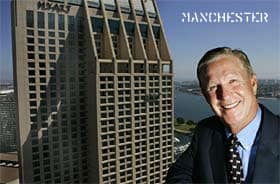 Manchester has been a polarizing figure, one known for his brash negotiations and controversial politics. He sponsored a 1994 effort that sought to move the city's international airport off the waterfront and to the Marine base at Miramar. The $125,000 he donated to the 2008 initiative to ban gay marriage in California attracted a high-profile boycott of his local hotels. His stand on marriage drew attention to his own divorce a year later.
"He has a well-earned reputation for being a small-minded, resentful, mean-spirited man," said Fred Sainz, the former spokesman for Mayor Jerry Sanders. "And those are not the character traits you want in the publisher of your newspaper. It's going to be hard to believe the editorial positions of the newspaper were arrived at in a thoughtful and unbiased manner."
Sainz said he thought the community needed to stage an intervention. "It's putting way too much power in the hands of one person with a multitude of agendas," he said.
As for the future of the paper?
John Lynch, the former local radio executive who will become the newspaper's new president and CEO, offered a preview Thursday night of that future…The paper's once-influential conservative editorial page softened. Lynch said he sees an opportunity there. He wants people to talk about the editorial page. He and Manchester, both politically conservative, want to forge a stronger, better San Diego."