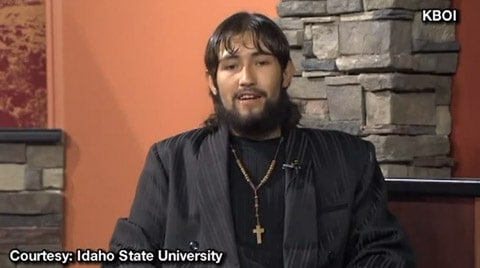 Oscar Ramiro Ortega-Hernandez, the man who allegedly shot a bullet that struck a White House window and has been charged with the attempted assassination of Obama, made a video in which he says he is the second coming of JEsus Christ, CBS News reports:
In a 20-minute video posted by CBS Affiliate KBOI, Ortega-Hernandez claims to be the second coming of Christ, and talks about Nostradamus and receiving a "message thorough time."
"When I first saw that, there was no doubt in my mind that the message sent through time was solely for me," Ortega-Hernandez said.
The student who filmed the video, Ramon Bailey, told KBOI that he randomly met Ortega-Hernandez and was approached by him to film a "commercial." Bailey hesitated, but gave in when the phone calls wouldn't stop. The taping disturbed Bailey so much he never edited it and did not return Ortega-Hernandez's calls. Bailey has been subpoenaed to testify in front of a grand jury at a district court in Washington D.C. on November 22.
Watch the video, AFTER THE JUMP…
The WaPo adds: "Oscar Ramiro Ortega-Hernandez, who was charged Thursday with attempting to assassinate the president, had 'increasingly become more agitated against the federal government' in recent months, an FBI agent wrote in a court affidavit. Before leaving his home in Idaho Falls about a month ago and driving 1,800 miles to the nation's capital, Ortega-Hernandez told acquaintances that he 'needed to kill' Obama and that he 'will not stop until it's done,' Agent Chris Ormerod wrote, quoting those acquaintances."