The Senate Judiciary Committee will vote today on the Respect for Marriage Act, the bill that would repeal the Defense of Marriage Act. The bill, which has 30 co-sponsors, is expected to be approved. As the House Republicans are busy defending DOMA in court, a similar bill there is not expected to see any action this session.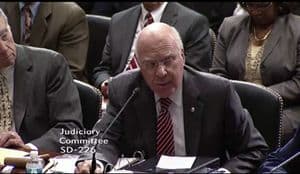 The Washington Blade reports that three amendments will be introduced to the bill during today's session, which is to begin at 10 am:
Of the three amendments, only one is germane: a measure that would strike Section 2 of the Respect for Marriage Act. That portion of the bill enables federal benefits to flow to married gay couples even if they live in states that don't recognize marriage equality. Under the bill as it currently stands, a couple could marry in a state such as New York, where same-sex marriage is legal and still receive federal benefits if they move to a state such as Michigan, which doesn't recognize same-sex marriage.
See the Blade for info on the other two amendments.
The session will be live streamed at the Senate website.
Arisha Michelle Hatch at Courage Campaign writes:
There's a lot of "so what, this bill won't go anywhere as long as Boehner and the Republicans control the House!" sentiment whenever these kinds of hearings and votes happen…This stuff does matter. Today we're going to generate a lot of news, change some hearts and minds, move some polling numbers, and increase pressure on the legislators we're pushing to support this bill (now at at record 31 in the Senate, a record 133 in the House). That all matters.