A Michigan mother filed a lawsuit this week on behalf of her son, who was reportedly kicked out of an economics class in October 2010 over his objection to gay people based on his religious beliefs: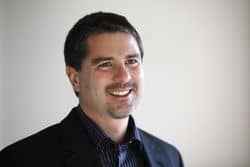 The Thomas More Law Center filed the suit Wednesday on behalf of Sandra Glowacki, a Catholic. It accuses the Howell Public School District and teacher Johnson (Jay) McDowell (pictured)of violating her son's constitutional rights.
The law center, which defends religious freedoms of Christians, said the district allowed Daniel Glowacki, 16, to be bullied for his religious beliefs on a day students and teachers were supporting the rights of gays and lesbians to be protected from bullying.
The claims in the lawsuit, as reported by the Detroit Free Press:
McDowell wore a purple T-shirt in support of a Rutgers University freshman who killed himself after a roommate streamed an Internet video of him kissing a male student, the suit says. The suit says McDowell told a student to remove a Confederate flag belt buckle that he found offensive. That prompted Daniel Glowacki to ask McDowell why it was OK to display the rainbow flag, which represents gay pride.
When Glowacki said his religion prevented supporting gay people, McDowell told Glowacki and another student to leave class, the suit says.
A copy of the complaint can be found HERE.

You may remember hearing about this incident back in November. McDowell was under fire over the incident at the time, suspended without pay, and an amazingly articulate gay 14-year-old student, Graeme Taylor, came to his defense at a board meeting.
Watch Graeme's speech again if you missed it, AFTER THE JUMP…