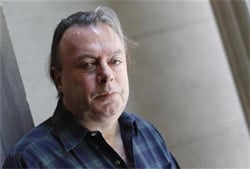 Journalist and outspoken atheist Christopher Hitchens is dead at 62 of pneumonia, a complication of esophageal cancer.
The NYT: "…a slashing polemicist in the tradition of Thomas Paine and George Orwell who trained his sights on targets as various as Henry Kissinger, the British monarchy and Mother Teresa, wrote a best-seller attacking religious belief, and dismayed his former comrades on the left by enthusiastically supporting the American-led war in Iraq…"
Graydon Carter remembers him at Vanity Fair. Christopher Buckley remembers him over at The New Yorker.
Previously…
The Soft Side of Christopher Hitchens, and the Brilliance of Mason Crumpacker [tr]
Report: Christopher Hitchens Will Reveal His Bisexuality [tr]