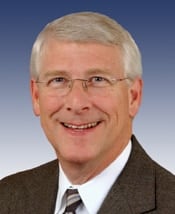 Ever since September, when the Pentagon handed down guidelines allowing military chaplains to perform same-sex marriage ceremonies, social conservatives have been haunted by the thought of some patriotic, anti-gay, Jesus-loving chaplain being forced to officiate a gay marriage against the dictates of his conscience. As the House and Senate prepare to reconcile their annual defense spending bills, an amendment by Sen. Roger Wicker (R., MS) may ease their minds. The Wicker Amendment states:
A military chaplain who, as a matter of conscience or moral principle, does not wish to perform a marriage may not be required to do so.
The Wicker Amendment was approved by voice vote last Wednesday. It's far milder than the paranoid madate already present in the House's spending bill. From the Washington Blade:
Language that was inserted by House Armed Services Committee Chair W. Todd Akin (R-Mo.) during committee markup outright prohibits military chaplains or civilian Pentagon employees from assisting with or officiating at a marriage ceremony.  The same provision also prohibits the use of military bases for these purposes.
But all the concern is probably unnecessary. As the Blade points out, the Obama administration's policy is already to "[give] chaplains the option of whether or not to take part in same-sex weddings."