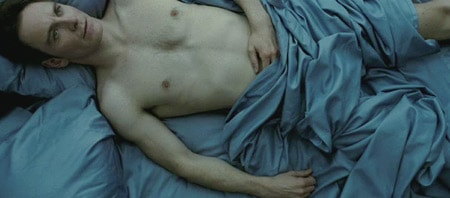 Michael Fassbender empties out in "Shame"

NATHANIEL ROGERS
…would live in the movie theater but for the poor internet reception. He blogs daily at the Film Experience. Follow him on Twitter @nathanielr.
 
YOUR FEATURE PRESENTATION
This time of year I am inundated with awards screeners. Studios send them out to awards voters hoping their films will be considered "Best". The disc for SHAME, a haunting NYC-set sexual addiction drama which opened yesterday in select theaters came in a minimalist pure white sleeve with only the title and a barely visible "for your consideration" adorning it. It's as naked as Michael Fassbender's star turn. Though I'd seen the film just two months ago, I popped it in the player hoping to let its riveting images and mesmerizing rhythms wash over me as I wrote a review. Instead the screen stayed black. The depressing message "Skipping Over Damaged Area" was all my DVD player would show me.
If one were to skip past the damaged, in a figurative sense, one would have to skip the entire film. Brandon (Fassbender) is a compulsive sex addict who lives in a pristine, virtually empty apartment and works in an equally characterless office. It's a smart bit of art direction as there's room for nothing in his life but sex. His answering machine, which we hear on loop in a ritualistic opening sequence, is filled with come-ons. His bed is only empty if he's out looking for someone to put in it. His computer is overflowing with porn ("your hard drive is filthy" his friend and boss remarks with amusement and whiff of judgmental incredulity). Just as we've become acquainted with Brandon's obsessive routines they're thrown off their usual course by a visit from his sister Sissy (Carey Mulligan). Her brother may come across like a numb sex zombie, but she's a livewire, a needy open wound.
MORE, including the first cries of "Best!" for Awards Season, AFTER THE JUMP…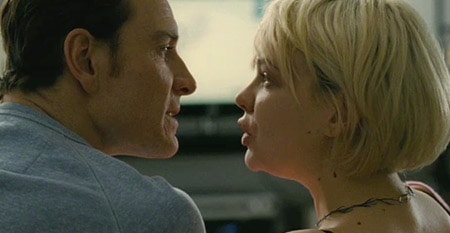 Sissy: I'm trying to help you?
Brandon: How are you helping me? You come in here and you're a weight on me.
Shame doesn't have much in the way of a story beyond the typical 'Addicts on a Downward Spiral' trajectory. Arguments have already surfaced about its strange mix of ambiguity (no backstory) and heavy-handedness (it's pretty blunt and defiantly unsexy despite all the sexing) and whether it earns its operatic soulful ending. But this movie, which is braving the theaters with an NC-17 rating, is worth arguing over. McQueen's expressive filmmaking offers ghostly images of the city and its denizens and his trademark super-long takes allow the actors to really dig in (including Nicole Beharie who is wonderful as a co-worker who Brandon pursues). And dig they do. The electrifying friction between the glacial Fassbender and volcanic Mulligan, sprung from the same seeds and womb, implicates both (Mother) Nature and Nurture; the two share an invisible but obviously torturous shared history.
Early in the movie Sissy sings the slowest rendition of the Liza classic "New York New York" you'll ever hear. The camera pretends it's a duet with Sissy and Brandon sharing the song in close-ups. Their eyes are such intense windows you can practically feel their pained souls harmonizing.
AWARDS SEASON KICKOFF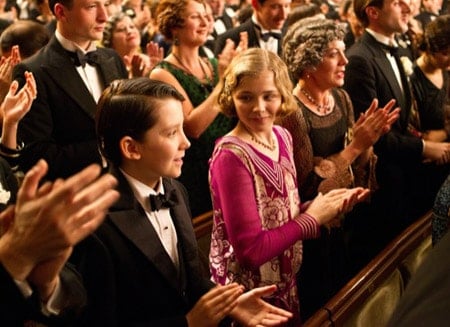 This week saw the kick off of the three-month long awards season. Are you ready for red carpets and an orgy of "Best This!" and "Best That!"? 
The suspicious cries of "First!" used to emanate from the National Board of Review. This year they cried out the holy name of Martin Scorsese, giving his 3D family film / movie history lesson "Hugo" the top prize. But they weren't actually the first awards body to speak out this year. The Gotham Awards, an miniature East Coast twin of sorts to the long running Independendent Spirit Awards started us off on Monday by declaring not one, but two films as "Best Feature". The films sharing the honor were the whimsical but moving gay drama Beginners (previously reviewed here at Towleroad and drawn from writer/director Mike Mill's own family history) and Terrence Malick's mysterious epic The Tree of Life. Inimitable cult filmmaker John Waters memorably included the latter in his year end top ten list, saying:
You'd think I'd hate this film, and I almost did—until I realized it's the best New Age, heterosexual, Christian movie of the year.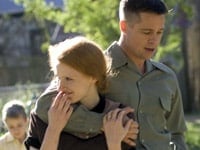 The day after the Gothams, the New York Film Critics Circle gave The Tree of Life two acting prizes: Best Actor and Best Supporting Actress. (Both were shared prizes since Brad Pitt and Jessica Chastain, the stars of that new age christian heterosexual spectacle both made multiple films this year.) The Artist, the ridiculously charming and funny silent film took Best Picture and Best Director. If that weren't enough The Spirit Awards also announced their nominations and it's a battle between The Artist, Beginners, 50/50, Drive, The Descendants and Take Shelter.
Oh yeah, it's on. Have you already chosen movie teams?