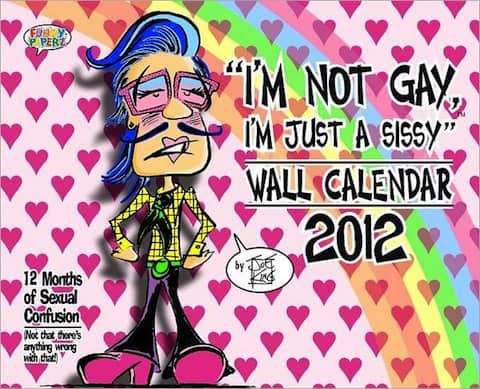 Following my post yesterday about the homophobic Joe King calendar on sale at Amazon and Barnes & Noble, blogger Chris Love brought it to the attention of DailyKos, and Americablog, and King has responded on his Facebook page:
Hoo-we! Hell hath no fury like a he/she scorned… The telephone tree of tantrums is lit up like a Las Vegas marquee for "Boy-Lesque" today with hate mail, threats of boycott and even the risk of Jesus spitting on me for my "Sissy" calendar. I SAID I WAS A SISSY UP FRONT. Ironic who the real bullies are isn't it? Let's see if I get a call from Oprah's people or even Anderson Cooper…
Like most bullies bluffs, the facts outweigh the fists: with almost 100 hissy- fits being thrown today only a couple of my calendars are in actual circulation. All the hysteria is coming from those nice folks who haven't bothered to actually purchase and read my collection. Stranger still – these are REPRINTS of nationally distributed work several years old. No outcry then. Even funnier, reprint rights were obtained by "Q" one year- Utah's largest gay paper. GUESS WHAT THE "Q" STANDS FOR?
King adds:
The "truth" is that AIDS is an "elective" disease.
It STOPS the day guys quit sticking it to each other.
And for the tragedy of women and children infected…
THAT stops the day their gay husbands and fathers stop cheating on them.
Anyone need MORE education, science or funding to understand THAT?
The gays are using some online blog to muster enuff negative comments to have my calendar pulled.
https://www.towleroad.com/2011/12/homophobic-calendar-by-christian-cartoonist-on-sale-at-amazon-barnes-noble.html One of the weirder points of contention is an editorial cartoon from 2005 when the marketing motto that year was "WE ALL HAVE AIDS". I AM BEING ACCUSED OF MAKING THIS STUFF UP. Apparently being gay involves some type of selective memory as well.
Bottom line: Andy has a hard on for me.
Cause nothing gets me hard like a self-loathing 'Christianist' a-hole with victim syndrome.
Information on contacting Amazon and Barnes & Noble AFTER THE JUMP…
Amazon
E-Mail: Click here.
Phone: 1-800-201-7575
Twitter: @Amazon
Facebook: Click here.
Barnes & Noble
E-Mail: Click here.
Phone: 1-800-THE-BOOK (1-800-843-2665)
Twitter: @BN_care (Customer service)
Facebook: Click here.