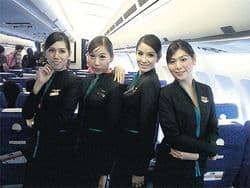 PC Airways is about to become the first Thai airline to employ "ladyboys" as flight attendants. From The Bangkok Post:
PC Air is due to commence its maiden commercial service, a charter flight for a tour group from Bangkok to Vientiane on Dec 24, and plans to inaugurate flights to two Chinese cities on a charter basis on Jan 23 next year.
The launch comes after a nine-month delay, which company reps said was occasioned by a desire to cash in on the glut of people traveling during the holiday season, rather than any financial shortfall. (To demonstrate his confidence in the airline's prospects, PC Air's sole proprietor, Peter Chan, elected not to lease the company's first airplane, an Airbus 310-222, and instead bought it outright for 1 billion Thai baht.)
PC Air offered a demo flight last week for members of the media. Aboard were the airline's four "ladyboy" flight attendants, pictured above. (Photo courtesy of Boonsong Kositchotethana. And no — "ladyboy" is not at all an un-PC term in Thailand.)
In the coming years, PC Air hopes to expand service to Hong Kong, China, South Korea, and Japan, and Mr. Chan promises to continue hiring third-gendered flight attendants. The Post again:
"It's our policy to promote equality," he said.

Among [the airline's] first batch of 30 cabin attendants are four ladyboys, 19 females and seven males, all of whom are officially certified. One of the ladyboys is Thanyarat Chirapatpakorn (second from right in the photo), who was crowned Miss Tiffany Universe 2007 and is best known as a model and soap opera actress who uses the name "Nong Film".