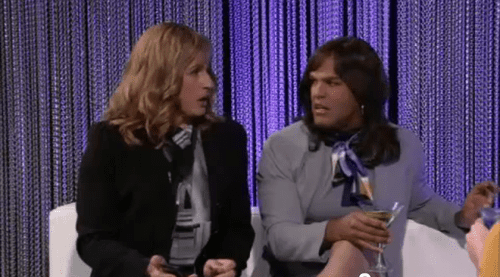 Work It, ABC's new, probably-doomed-to-be-canceled-anyway sitcom, is a show about two heterosexual, out-of-work car salesman who dress as women to secure employment as pharmaceutical reps. The show features no transgender characters, but according to GLAAD and the HRC, it demeans transfolk anyway. From GLAAD's press release:
During a period in which the transgender community now routinely finds itself in the cultural crosshairs, the timing couldn't be worse for a show based on the notion that men dressed as women is inherently funny.  In fact, shows like this have the power to put the transgender community in an even more dangerous position.
GLAAD has seen the pilot and while the show's pilot does not explicitly address transgender people, many home viewers unfamiliar with the realities of being transgender will still make the connection. Work It invites the audience to laugh at images of men trying to adopt a feminine appearance, thereby also making it easier to mock people whose gender identity and expression are different than the one they were assigned at birth.  Said GLAAD's Acting President Mike Thompson, "Transphobia is still all too prevalent in our society and this show will only contribute to it.  It will reinforce the mistaken belief that transgender women are simply 'men pretending to be women,' and that their efforts to live their lives authentically as women are a form of lying or deception."
The show's pilot must have been a lot worse than its preview. At least in the preview, Work It's writers seem less interested in the "inherent funniness" of men in dresses than in the comic potential of subverting heterosexual gender roles. Watch it AFTER THE JUMP.
GLAAD and HRC are asking ABC to pull Work It from the air. If ABC elects to run the show anyway, it'll premier on January 3rd.