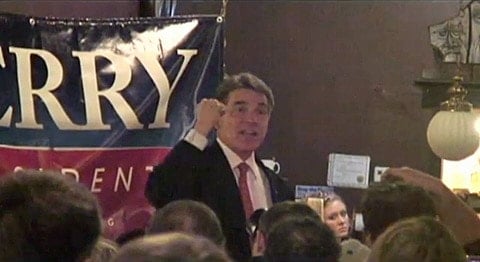 Following a week in which he dropped a widely-mocked anti-gay campaign ad (which has so far received 636,425 "dislikes" on YouTube), Rick Perry was heckled Sunday while finishing a campaign stop in Ames, Iowa by a man who yelled, "Why do you hate gay people so much?"
The man, who unfortunately waited to heckle Perry until he was off the stage, was booed by Perry's followers.
It wasn't quite the reaction Jason Arment, 24, hoped for. Arment, a former marine and Iowa State University student, said he wanted to interrupt the Texas governor's speech but Perry cut it 30 seconds short. A Perry supporter stuck up for the man and a brief shouting match ensued before both men left the cafe.
Outside, Arment said he wasn't expecting a verbal response from Perry.
"There are no answers for those questions," Arment said.
Watch the video, AFTER THE JUMP…
This also happened at the Ames campaign stop:
During an appearance in Iowa, he was slamming President Obama's administration for the spending choices it has made. "No greater example of it than this administration sending millions of dollars into the solar industry, and we lost that money," he said. "I want to say it was over $500 million that went to the country Solynda."