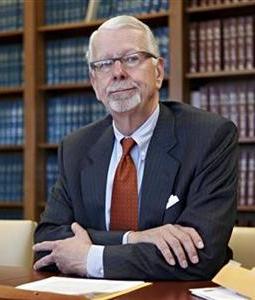 Man, oh man! Those anti-gay Proposition 8 activists just won't quit trying to discredit Judge Vaughn Walker's ruling that the ballot measure goes against the constitution.
Yesterday, before the 9th U.S. Circuit Court of Appeals, an attorney for the marriage ban's backers again argued that Walker should have recused himself because he's gay.
"[Walker] knew that he, too, like the plaintiffs, was a gay resident of California who was involved in a long-term, serious relationship with an individual of the same sex," said the group's lawyer, Charles Cooper. "The litigants did not have any knowledge of these facts, and it appears that Judge Walker made the deliberate decision not to disclose these facts."
The appeals court was not impressed.
Read more, AFTER THE JUMP…
The Washington Post has details of what sounds like a true smack down:
Judge R. Randy Smith, who represents Idaho on the 9th Circuit, interrupted to forcefully ask why a gay judge would be any more obligated to divulge his relationship status and views on matrimony than would a married straight judge who opposes same-sex marriage.

"So a married judge could never hear a divorce?" Smith asked.

"Your honor, I don't see the difficulty with a married judge hearing a divorce action," Cooper answered.

Smith replied: "Would he have to disclose, 'Oh, I've been married, and we've been married for 24 years and we have a relationship that's kind of difficult'? That's what you are arguing here?"
David Boies, the lawyer who fought against Proposition 8, also piled on Cooper, whose logic, he said, was "perverse."
"[Cooper's] perverse logic is that only judges, gay or straight, who have no interest in marrying and the institution of marriage would be the only ones who could hear this case," said Boies.
The court has yet to reach a decision on Walker's role, but it sounds like they're either going to rule against the anti-gay activists or send the entire case to the Supreme Court, which means, of course, that marriage equality will be thrust into the presidential campaign.
Think all this added pressure will help President Obama "evolve" on gay marriage, or will he simply offer soft support, lest he lose more centrist or independent voters?
Ruth Marcus thinks he'll become more of an activist this go-round, simply because supporting gay marriage is no longer "political poison." In fact, it may be a strength.
In a memorandum to Democratic consultants and campaign managers, gay rights advocates argue that backing same-sex marriage is not the political poison it was in years past. Indeed, they contend, it could be a political boon — not only with Democrats but with independent voters, some 56 percent of whom approve of same-sex marriage.

Their data? Analysis by Joel Benenson, Obama's pollster, and Jan van Lohuizen, who served that role for George W. Bush.

"What was once used as a wedge by Republicans to turn out conservatives and put Democrats on the defensive may now have the opposite effect, as growing numbers of voters across the board support the freedom to marry," says the memo, written by Democratic strategist Doug Hattaway and Evan Wolfson president of Freedom to Marry.
Let's hope Obama sees the light, too.
In the meantime, our very own Ari Waldman will have a thorough legal analysis of this hearing later this afternoon. Stay tuned!