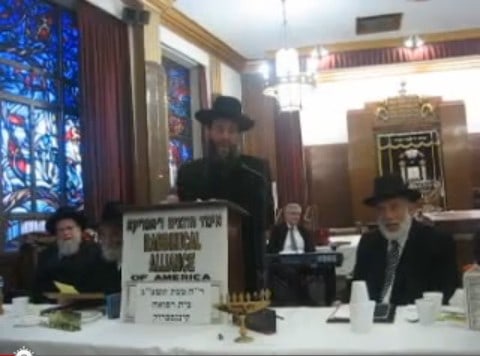 Yehuda Levin, the NOM-aligned orthodox rabbi who famously blamed gays for the catastrophic earthquake in homophobic Haiti, and NYC's domestic partnerships for the destruction of the World Trade Center, really doesn't like Mitt Romney. In a new video, shot at a gathering of similarly-anti-Romney rabbis, Levin said this:
Governor Romney, over a long political career, has earned the title of homosexualist — one who constantly advances the militant, anti-religious, anti-society, immoral homosexual agenda to the detriment of family people …

We must denounce and condemn what Romney has done in Massachusetts, and express our fear of what he will do with our country if elected to higher office. If one has a wife for decades, and a beautiful family personally, but advances a corrupt ideology which runs counter to his own religion, and destroys the religio-cultural values of society, he is likened to a rabbi who says 'I will never eat pork, but I will force-feed pig to thousands of people.' Pig remains not kosher, and he is not kosher. We plead with other religious groups to speak out on this, and we plead with religious people to understand that the increase of the homosexualization of society increases the likelihood of Sandusky-like child abuse.
These words come from a "special Chanukah conclave" of 850 orthodox rabbis in New York City, called for the express purpose of denouncing Romney's homosexualism. Watch the video AFTER THE JUMP …