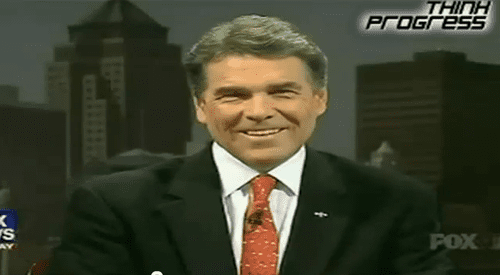 Rick Perry may be proud to be a Christian. He may, as he implied at last night's debate, be proud to be an unlettered goodoleboy from the plumbingless Bumblefarkian backwoods. He probably shouldn't be proud of his inability to remember the names of all nine justices of the Supreme Court.
But he is, somehow. On Friday, in a conversation with The Des Moines Register, Rick Perry attacked Justice Sonia Sotomayor as an "activist" judge, but couldn't remember her name. He also asserted, erroneously, that there are eight justices on the Supreme Court. Oops.
This morning, Perry showed up on Fox News and tried to explain himself. He was proud, defiant. He owned his ignorance. In response to a question from Chris Wallace, Perry said:
Obviously, I know there are nine Supreme Court judges. I don't know how eight came out my mouth. But the, uh, the fact is, I can tell you — I don't have memorized all of those Supreme Ccourt judges. And, uh, ah — Here's what I do know. That when I put an individual on, just like I done in Texas, ah, we got nine Supreme Court justices in Texas, ah, they will be strict constructionists. They wont be activist judges. That's what Americans care about. Uh, they're not looking for a robot that can, uh, spit out, uh, the name of every Supreme Court justice, or, ah, the the someone that's gonna be perfect in, in, in every way. They're looking for somebody that's got values, that're based, ah, with a, with a, ah, deep rudder in the water. And I am consistent, uh, in my conservative values, I have been consistent, uh and Americans are looking for someone who's gonna make the right decisions, not someone who, uh, uh, ah, can either read a teleprompter perfectly, uh, or spit out, uh, by memory a list of names. That's not what's important to Americans.
Hopefully, neither is diction. Anyway, what's incredible is that the Perry campaign had already addressed the candidate's seeming inability to remember the number of Supreme Court justices by explaining that Perry was really referring to the 1963 case of "Abington School District v. Schempp,"  in which the court, in an 8-1 decision, ruled that school-sponsored Bible reading was unconstitutional. In other words: Perry's remarkable brain can recall the precise vote breakdown of a 50-year-old decision by the Warren court, but not the names of the nine individuals currently responsible for interpreting law on behalf of the entire United States. Watch Rick Perry answer AFTER THE JUMP …