This is bad. The anti-gay bill which has already passed one reading in St. Petersburg and is being considered in Moscow, that would ban any gay rights protests or marches that would possibly be seen by children, and in its language compares homosexuality to pedophilia, is now being pushed at a federal level by Russia's Deputy Prime Minister, AFP reports: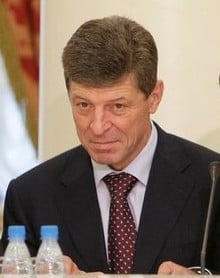 Speaking in Saint Petersburg, where city lawmakers have backed the bill in its first reading, Kozak said he supported the bid to introduce fines for "disgusting activity," the Interfax news agency reported.
The bill proposed by United Russia would introduce fines of up to 50,000 rubles ($1,625) for "public acts aimed at promoting homosexuality, lesbianism, bisexuality and transgender identity to minors."
The deputy prime minister, a close ally of premier Vladimir Putin, spoke alongside the regional governor, Georgy Poltavchenko, who said the bill would "benefit public morality," Interfax reported.
Kozak went even further, suggesting the bill should be considered for inclusion in national legislation.
I wrote about the bill more at length HERE and yesterday posted an ad created by Side by Side, a group working against the ban in Russia. There is also an international online petition to express disgust at the bill.
The U.S. State Department earlier this week infuriated Russia by speaking out against the bill:
"Gay rights are human rights and human rights are gay rights," the State Department said, repeating a declaration by top US diplomat Hillary Clinton. "We have called on Russian officials to safeguard these freedoms, and to foster an environment which promotes respect for the rights of all citizens."