The AP takes a look at yesterday's Clinton speech and Obama memo on LGBT rights. Apparently, the anti-gay  representatives were quite taken aback by what Clinton had to say: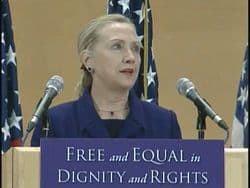 Clinton's audience in Geneva included diplomats from Arab, African and other nations where homosexuality is criminalized or where brutality and discrimination against gay and transgender people is tolerated or encouraged. Many of the ambassadors in the audience responded with stony faces and rushed out of the room as soon as she finished speaking.
Also noted are activist concerns:
Neil Grungas, founder of the San Francisco-based organization for Refuge, Asylum and Migration, which represents gay asylum-seekers, said it was critical for the administration to secure allies on every continent to avoid looking like it was imposing American values on parts of the world that view the West with mistrust or hostility.
Recalling how large demonstrations broke out in Pakistan in June after staff at the U.S. Embassy held a gay pride celebration there, he said that Obama's sincere commitment to improving the gay rights picture globally could inadvertently make life worse for gays and lesbians abroad.
"This cannot be seen as a U.S.-only issue because at the end of the day that would be counter-productive," said Grungas, who was in the audience for Clinton's speech. "In countries where U.S. moral leadership is not high and where increasingly Western values are negative … there is a real danger people can use this issue and say, 'No, we are cleaning up here, we are going to reject this American imposition of decay.'"
US will use foreign aid to defend gay rights abroad, Clinton, Obama declare: culture no excuse [ap]