As you may know, yesterday afternoon Alec Baldwin was kicked off an American Airlines flight after a dispute with a flight attendant: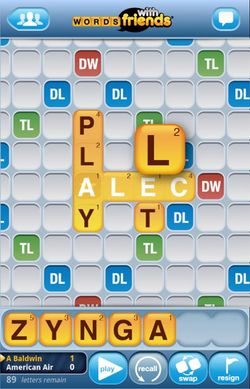 "Flight attendant on American reamed me out 4 playing WORDS W FRIENDS while we sat at the gate, not moving," the actor said in a Twitter message after the incident.
The "30 Rock" star added a hashtag saying it was "no wonder" the airline recently declared bankruptcy.
The cabin confrontation started when a flight staffer scolded Baldwin for playing the addictive, Scrabble-like game on his iPad while the airplane was parked at the gate – when electronic devices are supposed to be off – a source familiar with the incident told the Daily News. The actor, 53, got up and demanded the flight attendant's name so he could file a complaint – and the conflict escalated, the source said.
'Words with Friends' saw an opportunity:
After the news broke, the Zynga word game released a photo to TMZ that features the phrase "Let Alec Play."
And the score on the game reads: A Baldwin 1, American Air 0.
Baldwin also tweeted out the photo to his nearly 600,000 followers, along with the hash tag #theresalwaysunited.
Witnesses to the Baldwin scuffle offer another story: Baldwin was angry that a couple wanted to sit in first class and was annoyed by it, got up and slammed the lavatory door so hard the pilot asked what was going on.