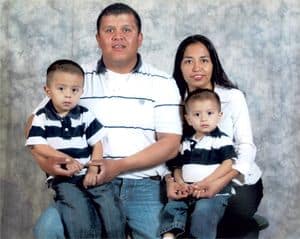 This weekend, Texan LGBT paper The Dallas Voice introduces readers to the Castro-Martinez family. They're not a gay family, but oh well.
Writes the Voice:
A little more than a year ago, Avigail was expecting her and Joel's third child. Their daughter, who would be named Genesis, was going to be born any minute. About 2 a.m. on Nov. 21, 2010, in need of some last-minute supplies, Joel and Avigail put their sons into the family's Chrysler Sebring, and the family headed to the store.

But as they passed through an intersection on McCart Avenue, on Fort Worth's south side, a drunk driver in an SUV ran a red light and slammed broadside into the family's car. The drunk driver then fled the scene, but a Fort Worth Police officer who saw the accident was able to give his fellow officers enough information about the SUV that they were able to track down the driver while the first officer stayed at the scene of the accident with the gravely injured family of four.

… The two young boys suffered serious injuries. Joel had fractured ribs and several lacerations. Eliel suffered a laceration to his liver. Their father Joel was so severely injured that he was unable to work for six months after the accident.

But Avigail was the surviving family member with the most serious injuries. Not only did she lose her unborn daughter, she suffered bleeding in her brain and in her lungs, and spent six months on life support — unresponsive and unaware of anything going on around her. Now, Avigail remains confined to a wheelchair, and she will be for the rest of her life, unable to care for herself or her family.
The Voice is calling for readers to help the Tarrant County DA's office, which has officially "adopted" the Castro-Martinez family for the holidays. They're looking for donations of "in-kind" items, such as a wheelchair for Avigail, a shower chair, and toys for the kids. Deets on how to help may be found at The Voice, along with this heartening, thoroughly pro-family message:
I know that we have plenty of people here in our own LGBT and HIV/AIDS communities that need our help this holiday season. I am not saying we should ignore them. But I just think we should remember that we don't have to restrict ourselves to just helping our own. When you get right down to it, we're all in this together.
[Photo: Courtesy of The Dallas Voice]