The U.N.'s High Commissioner for Human Rights, Navi Pillay, directed world governments today to end abuse based on sexual orientation and curtail criminalization of homosexuality, the AP reports: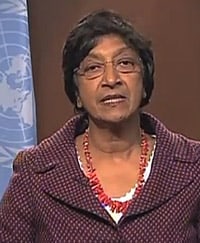 Navi Pillay's appeal came in a report released Thursday to the 47-nation U.N. Human Rights Council, which in June passed the global body's first resolution condemning anti-gay discrimination. That vote was hailed as historic by the United States, European countries and others, but decried by some African and Muslim nations…
…The report criticizes the continued existence of death penalty punishment for same-sex relations in at least five countries — Iran, Mauritania, Saudi Arabia, Sudan and Yemen — as well as legislation explicitly criminalizing gays in 76 countries.
Said Pillay: "On the basis of the information presented (in this report), a pattern of human rights violations emerges that demands a response…Governments and inter-governmental bodies have often overlooked violence and discrimination based on sexual orientation and gender identity."
Pillay's report comes a week after President Obama's memorandum and Hillary Clinton's UN speech directing countries abroad to fight discrimination against LGBT people.