It is customary to look back each holiday season to assess the successes of the past year and remind ourselves how far we have come, where we need to go, and whom to thank for both. Our year was cabined by two striking moments: Just before 2011 began, Congress repealed the odious "Don't Ask, Don't Tell," and just before 2011 ends, a lesbian petty officer kisses her same-sex partner in the ceremonial first kiss upon her ship's return. But, the steady advance toward equality in the military is just one reason why 2011 may have been the best year for gay rights since Alexander the Great ruled the known world.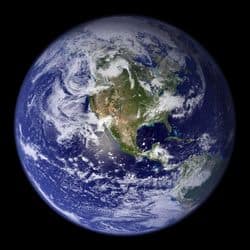 How do we continue our undeniable progress into 2012? This is why we look back: to determine what worked, who worked for us, who worked against us, and what strategies are better than others. I argue that there are three clear lessons from the banner year of 2011: (1) President Obama has not only done more for our community than any president in history, but has indeed been the "fierce advocate" he promised to be; (2) litigation can be more successful than disorganized political activism; and (3) the old advocates, gay rights organizations, and institutions collectively (and derisively) called "Gay, Inc." can still be relevant if they adapt to a world that is no longer characterized by an inaccurate "Will & Grace"-like conception of LGBT people.
AFTER THE JUMP, let's review the facts of a gay 'ole 2011 and then, let's draw conclusions from those facts.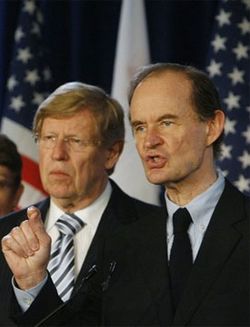 Prop 8: Early this year, the Ninth Circuit certified a question of state standing law to the California Supreme Court. Some in our community used words like "punted" or "avoided," but the court was really being thorough, ensuring no legitimate rationale for undermining its ultimate merits decision. California's highest court eventually determined that ProtectMarriage, the citizen proponents of Prop 8, have standing under state law to step into the shoes of the state to defend Prop 8 on appeal. As I argued here, that decision was expected, but based on faulty reasoning. But, the decision put Perry back on the fast track to a decision on the merits. Shortly after the California Supreme Court made its decision, the Ninth Circuit saw briefing and heard argument on the appeal of the grant of the motion to release the videotapes of the original Perry trial and on the appeal of the denial of the motion to vacate the original lower court decision because Judge Vaughn Walker is gay and was in a long-term same-sex relationship at the time of trial. I argued here that affirming the latter was a slam dunk, while affirming the former was unlikely.
Still, look how far we have come: The Prop 8 litigation — thanks to the American Foundation of Equal Rights (AFER), its legal team run by Ted Olson and David Boies — gave us the first federal court decision declaring gay judges can be impartial on gay rights cases, and it gave us a federal court's declaration that no evidence exists to suggest that natural procreation was ever a purpose of marriage, that no rational reason exist for keeping gays and lesbians out of the institution of marriage, and that marriage discrimination is an example of state action that classifies individuals on the basis on sexual orientation, which merits heightened scrutiny. And, let us not forget that Perry gave us a forum to say that marriage discrimination is unconstitutional.
We have to ask ourselves what — or whom — helped create these successes. The answer is clear: AFER, Ted Olson, and David Boies, and the recognition that the courtroom is our friend. Remember, certain gay activists initially balked at the involvement of the conservative Mr. Olsen, worried for an intrusion onto their turf. I dare them to voice those concerns today. Plus, had we not taken the litigation path, our rights would be at the mercy of the misleading advertisements in a popular vote and the flaky whims of a pliable voting population.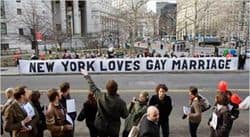 Marriage Equality in New York: On June 24, the New York State legislature sent Governor Andrew Cuomo a bill to legalize same-sex marriage in the Empire State. The law took effect one month later, making New York the largest state by far to allow our community entry into the institution of marriage. The methodical legislative strategy culminated in endless meetings with several Republican state senators to tip the balance for marriage equality in the upper chamber. And, despite a few Republicans who used the back door meetings to push their own agenda — and despite the anti-gay vitriol that spewed from Ruben Diaz — the bill passed.
Who brought us here? Governor Cuomo was one of 2011's strongest gay allies. Right up there with Senator Kirsten Gillibrand, Governor Cuomo's unique blend of moderation, effectiveness, and strong advocacy skills almost made marriage equality a foregone conclusion. But, it was the years of work by Alan Van Capelle and the Empire State Pride Agenda setting the groundwork for marriage equality, and Brian Ellner and an effective advocacy campaign from the Human Rights Campaign and New Yorkers United for Marriage that kept the pressure on. What distinguishes the New York advocacy effort from the impossibly territorial and unfocused effort to put Prop 8 on the ballot in California was the unity and cooperation of the former. In California, Equality California, which botched the 2008 Prop 8 effort, has fallen apart, and it's not known whether newcomer "Love, Honor, Cherish" has the experience, the money, the respect, or the skills to do what Mr. Ellner and the marriage coalition did in New York.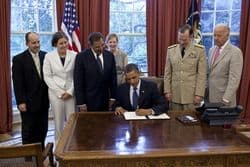 "Don't Ask, Don't Tell": Though the Repeal Act was passed in 2010, the law was signed away this summer and brushed aside in September. Sure, Elaine Donnelly is still apoplectic and various organizations with the word "Family" in their names are still obsessed with sexuality. But, the United States military is not only functioning, it is thriving: The Marine Corps is recruiting at gay pride events, lesbians are getting the first kisses when their ships return home, all branches are re-admitting previously discharged gay service members, and harassing incidents have been exceedingly rare.
This year marked the end of the odious law, but it means more than that. To suggest that who you are makes you incapable of serving your country is the height of hate and un-American. The recognition that gays can serve openly also means that if we allow gay soldiers to fight and die, how can we not allow them to marry the ones they love, or extend benefits to those loved ones, or allow them to marry on base chapels, or grant their families access to Tricare, and so on. the end of "Don't Ask, Don't Tell" means a lot.
So, it is worth once again asking: how did we get here? DADT was repealed by a Democratic Congress, with significant support from a Democratic president. And, while there were Republican senators and representatives who voted in favor of repeal, this bill would have never come to the floor had their party controlled even one house of Congress. Repeal was a striking statement from our Democratic allies in comparison to our conservative opponents, but not a very brave one: Repeal was supported by upward of 70 percent of the American public. Still, the DADT saga showed us who has our interests at heart: Senators Levin and Lieberman took the lead, but Senators Gillibrand, Feinstein, Schumer, Reid, and a host of others made this vote about morality and fairness than anything else. It showed that Senate Republicans want nothing to do with gay equality when, as stated by Senator Collins, it means going too fast. It showed that John McCain is a mercurial, excitable man set in his ancient ways, that Scott Brown thinks being a "moderate" means doing everything half-heartedly, and, as evidenced by the hearings to propose complicating roadblocks to repeal, that House Republicans are dominated by those men and women who feel a calling to do anything in their power to stop the progress of gay equality.
DADT was also repealed in the context of dual political and legal strategy. Log Cabin Republicans v. United States scared the Pentagon and institutionalists that if the legislative repeal process fell apart, a California federal judge was going to abolish the ban on a dime, throwing the methodical military into alleged upheaval. The Servicemembers' Legal Defense Network lobbied hard, but the Human Rights Campaign was late to the party. Together, a united political lobbying effort and a well-reasoned legal argument made the Repeal Act possible.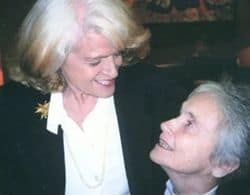 DOMA: In February, 2011, President Obama took his greatest step to date in support of gay rights when he and Attorney General Holder issued a letter to Speaker Boehner declaring it Administration policy that sexual orientation discrimination merits heightened scrutiny and that, as such, the Administration will no longer defend DOMA, the so-called "Defense of Marriage Act," that declared opposite-sex marriage the only possible marriage under federal law. This means quite a bit for the ongoing DOMA challenges — Gill, Petersen, Windsor, and others — because the executive's position is always given high regard, but it means more than that: President Obama is the first president to make it official government policy that anti-gay discrimination is antithetical to American principles of equality and due process. And, for those in the lawyerly biz, we know the importance of heightened scrutiny. Without it, a state actor can pick any reason out of a hat to discriminate against us; now, he has to pass a much higher hurdle. Already, this policy has resulted in various courts, including the Los Angeles bankruptcy court, to declare DOMA unconstitutional.
How did we get here? Thanks to President Obama and his lawyers and advisers. The lawyers who advised President Clinton, including some oddly prominent ones poking at President Obama from the sidelines, consistently advised caution on gay rights. Chastened from the gays in the military fiasco, they proposed DADT as a supposed compromise and told Mr. Clinton to stay away from gay issues. Then-Senator Clinton, when she ran for the Democratic nomination, did the same. President Obama may still be "evolving" on the issue of marriage, but his support for gay equality has been full-throated.
President Obama voiced support for marriage equality in New York, has sent letters of congratulations to married same-sex couples, and allowed his cabinet secretaries to voice unmitigated support for same-sex marriage. President Obama is indeed evolving, and history will prove that it was a good idea to trust a man who has done so much on our behalf.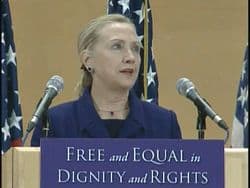 Foreign Policy and Immigration: At the direction of President Obama, Secretary of State Hillary Clinton recently made it clear to the world that the United States believed that human rights are gay rights, and gay rights are human rights, and those countries that deny either are no friends of Washington. While the memorandum connected to the speech was light on details — admittedly, all United Nations documents are light on details — Secretary Clinton's speech had extraordinary rhetorical value.
Also at President Obama's direction, the Administration has basically put an end to the deportations of the legally married foreign national spouses of same-sex American citizens.
Extension of Federal Benefits: President Obama extended various federal benefits to gay couples through executive order, but even more important than that, Lambda Legal secured victories for gay federal employees seeking federal benefits.
There have been other developments — some good, some bad — but before we get bogged down in minutiae, the pattern is pretty clear. We owe 2011's progress to President Obama, the incomparable Ted Olson and David Boies and the AFER team, and the legal strategies they all employed. President Obama knew that more progress could be made through heightened scrutiny than anything else, and AFER knew that putting Prop 8 back on the ballot would make marriage rights nothing more than a ping pong ball.
We have more to do in 2012 — DOMA must be declared unonstitutional by the federal courts and we must pass employment non-discrimination — but, as we get closer to the precipice of the 2012 election, our victories in 2011 remind us who our allies are, that our advocates need to unite, and that President Obama has done more for our community than anyone likely imagined realistically possible.
***
Ari Ezra Waldman is a 2002 graduate of Harvard College and a 2005 graduate of Harvard Law School. After practicing in New York for five years and clerking at a federal appellate court in Washington, D.C., Ari is now on the faculty at California Western School of Law in San Diego, California. His research focuses on gay rights and the First Amendment. Ari will be writing weekly posts on law and various LGBT issues.
Follow Ari on Twitter at @ariezrawaldman.