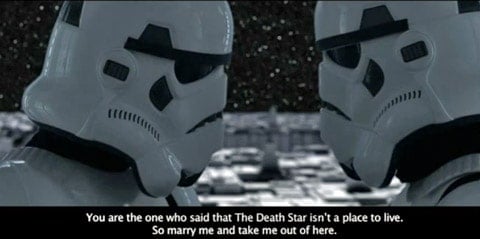 Long, long ago in a galaxy far, far away…there were gay people too.
Check out this short film called "Love Wars" from Spanish filmmaker Vincente Bonet Martinez about two Star Wars Stormtroopers inside the Death Star. It's screening at the Notodo Film Fest.
In the film, the two Stormtroopers, played by Jordi Sanchez and Ivan Jara, discuss their clandestine relationship and the oppressive social environment they find themselves in, and fantasize an escape to Alderaan where they can live happily.
Watch it, AFTER THE JUMP…