ABC Entertainment President Paul Lee doesn't "get" why LGBT groups are calling for the cancelation of the network's cross-dressing comedy Work It: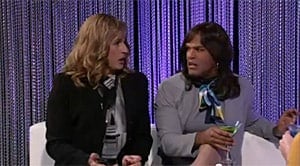 "In terms of the lesbian and gay community, we're incredibly proud of the work that ABC does," he told TheWrap. "That's not just 'Modern Family,' it's 'Grey's Anatomy,' it's 'Private Practice,' it's 'Dancing With the Stars.' But in that particular case… I didn't really get it. I love 'Tootsie.' … I still love 'Tootsie.' I don't find it to be offensive. So in that particular case I didn't get it."
Wrote GLAAD in mid-December:
During a period in which the transgender community now routinely finds itself in the cultural crosshairs, the timing couldn't be worse for a show based on the notion that men dressed as women is inherently funny.  In fact, shows like this have the power to put the transgender community in an even more dangerous position.
GLAAD has seen the pilot and while the show's pilot does not explicitly address transgender people, many home viewers unfamiliar with the realities of being transgender will still make the connection. Work It invites the audience to laugh at images of men trying to adopt a feminine appearance, thereby also making it easier to mock people whose gender identity and expression are different than the one they were assigned at birth.  Said GLAAD's Acting President Mike Thompson, "Transphobia is still all too prevalent in our society and this show will only contribute to it.  It will reinforce the mistaken belief that transgender women are simply 'men pretending to be women,' and that their efforts to live their lives authentically as women are a form of lying or deception."