Speaking about himself in the third person, Pat Buchanan blamed gays and "people of color" for his firing by MSNBC network president Phil Griffin following outrage over his book  Suicide of a Superpower, Think Progress LGBT reports.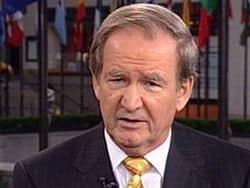 Said Buchanan: "Look, for a long period of time the hard left, militant gay rights groups, militant — they call themselves civil rights groups, but I'm not sure they're concerned about civil rights — people of color, Van Jones, these folks and others have been out to get Pat Buchanan off T.V., deny him speeches, get his column canceled."
Listen, AFTER THE JUMP…
GLAAD's Aaron McQuade applauds: "But just as Pat writes what he believes to be the truth (in chapters with titles like "The End of White America") so do those of us who believe that divisive and discriminatory voices like his have no place in rational discussions about the issues facing our country…We hope MSNBC stands by its decision not to lend its credibility to Pat Buchanan's vile and anti-everything comments, and keeps him off the air.  (And of course, we look forward to seeing him become a regular on Sean Hannity's show, likely within minutes of his removal from MSNBC becoming official.)"