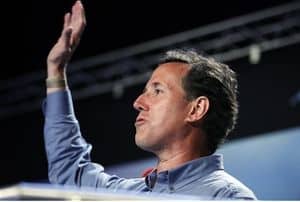 Today, more than 150 American Evangelical leaders gathered at a ranch in Texas to solve, once and for all, The Romney Problem.
After watching in disgust and horror as moderate Republicans united behind Mitt Romney, and conservatives and Evangelicals split their votes between three and occasionally four candidates (Newt Gingrich, Rick Santorum, Ron Paul, and very occasionally Rick Perry), conservative worthies gathered this morning at the ranch of Paul and Nancy Pressler for a gathering organized by Republican bigwigs and professional homophobes James Dobson, Donald E. Wildmon, and Tony Perkins, among others, to decide who shall be the official anti-Romney unity candidate.
Their choice: Rick Santorum.
Ron Paul never had a chance, because he doesn't want to regulate the nation's genitals. Picking Newt Gingrich would have been safer politics, but Newt's not not righteous and they know it. Rick Perry's got the grit, the record, and the look, but he couldn't get elected dog catcher outside Texas. So it's Santorum. From The New York Times:
The field was narrowed to Mr. Santorum and Mr. Gingrich after the first vote. By the third ballot, Mr. Perkins said, 114 people voted, with Mr. Santorum receiving 85 votes to 29 for Mr. Gingrich.

Mr. Perkins declined to explain why participants moved toward Mr. Santorum, other than to praise his consistent record on social and economic issues. In the discussions, Mr. Perkins said, participants were as concerned about repealing Mr. Obama's health care law and fighting the national debt as they were about abortion and same-sex marriage.

And many evangelicals have said they are bothered not only by Mr. Gingrich's three marriages, but by his attacks on Mr. Romney's work in private equity, which they believe amounts to attacks on free enterprise.
But there was no consensus. Several of the worthies still support Gingrich, and there's no telling whether the newsly minted Santora (Santorumites?) will have a tangible influence on voters. As the Times notes:
Evangelicals tend to be better informed and more independent that they were a generation ago, when the endorsement from a leader like Jerry Falwell or Pat Robertson held huge sway, said Rev. Paul Jimenez, pastor of Taylors First Baptist Church in Greenville, S.C.

"People will take note of what the leaders say, but the days are gone when you could stand up and say this is our guy," said Mr. Jimenez, who previously worked in Washington for the late Senator Jesse Helms of North Carolina. "Evangelicals have so many voices now."
The Evangelicals have just one Sunday church service in which to get out the Santorum vote ahead of the South Carolina primary next Saturday.