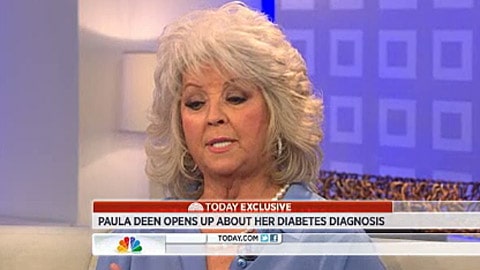 Paula Deen confirmed to a number of media outlets today that she has Type 2 diabetes. Rumors that Deen, whose butter and sugar-loaded Southern cooking are her hallmark as a TV chef, had diabetes began circulating last week. Deen said she was diagnosed with it three years ago.
She says her delay in talking about the disease had nothing to do with fear about hurting her reputation. "That was not why. My knowledge about the disease was very limited. But now I'm coming with good information, something that can help and bring hope to other people. It may sound cliché, but it's the God-honest truth."
Said Deen to USA Today: "I made the choice at the time to keep it close to me, to keep it close to my chest. I felt like I had nothing to offer anybody other than the announcement. I wasn't armed with enough knowledge. I knew when it was time, it would be in God's time."
Watch Deen tell Al Roker, AFTER THE JUMP…
Visit msnbc.com for breaking news, world news, and news about the economy