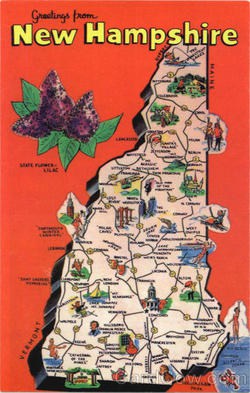 For all the social conservative energy bubbling ahead of today's Iowa caucuses, same-sex marriage has for the most part remained on the back burner during this presidential election cycle. That will soon change, though, as candidates flock to the Granite State for the New Hampshire primary next week.
A far more moderate state than Iowa, New Hampshire legalized same-sex marriage in 2009 and ever since right-wingers and religious leaders have tried to overturn that law. In fact, a New Hampshire Bishop named Peter Libasci has just joined the backward battle.
"Jesus, Mary, and Joseph, I do now add to this prayer: help us to rediscover and strengthen the bonds of marriage and family," he wrote in a recent blog post. "Human attempts to replace or redefine marriage do not respond adequately to the present situation of isolation, grief, and confusion."
Well aware of what's at stake, New Hampshire's Concord Monitor, the state's leading paper, today ran an editorial demystifying some of the conservative claims about gay marriage's so-called dangers. A snippet:
Over the past several years, we've heard a handful of regular arguments against gay marriage – at the State House, on the national stage, among the candidates vying for our votes in next week's presidential primary. Examined dispassionately, none of them should sway any votes in the weeks ahead. Consider:

• Marriage is between one man and one woman. This is more of a declaration than an actual argument. In fact, it's a declaration of bigotry. After all, who gets to define marriage? Those already married? Without a compelling reason to deny marriage to gay people, a statement like this is hard to take seriously.

• But marriage has been restricted to heterosexuals for thousands of years. Many traditions outlive their usefulness. Slavery was an ancient practice too, after all. So was barring women from participation in politics. Once upon a time, people with disabilities were routinely locked away in institutions. Mercifully, times change.

• Marriage is for procreation. In many cases, yes. But infertile, straight couples marry all the time. So do those uninterested in having kids. Those past their child-bearing years aren't forced to divorce. Having children isn't the only thing that brings couples together.
Their ultimate conclusion: "Don't tamper with same-sex marriage law," which happens to be the title of the editorial.
Read more, AFTER THE JUMP…
With so much attention on the issue, it is only a matter of time before voters — 50 percent of whom support the same-sex marriage law — start hammering Republican candidates on the controversial matter. But GOP White House hopefuls won't be the only ones feeling the heat: President Obama, who is allegedly "evolving" on marriage equality, will have to explain himself, as well, and not only in New Hampshire.
As The Charlotte Observer reports, North Carolina, host of the Democratic National Convention come September, will vote in May on whether or not to constitutionally ban same-sex marriages, which leaves gay Democratic delegates wondering where their party will go.
"There's the potential that we're going to be greeted to the state with another one of those heinous marriage amendments," said Jerame Davis, interim executive director for the National Stonewall Democrats. "That's definitely not putting out the welcome mat to LGBT people coming to the state."
And if the Supreme Court is asked to weigh in on DOMA, then all bets are off and the 2012 election will have a lot more LGBT flavor than many imagined.